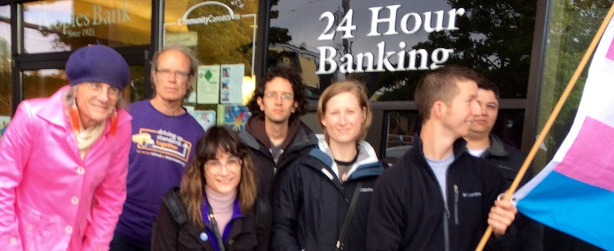 Seasol is standing alongside member Lizzi in her fight against transphobia at Peoples Bank. Lizzi experienced blatant discrimination at the bank where she has an account. She and Seasol are demanding that Peoples Bank give its employees "Transgender 101" training in acceptance of transgender people as co-workers and customers.
In November, Lizzi called the bank to ask for her account balance. Shayna, the Peoples Bank employee on the other end of the line, refused, saying, "We have this [account] listed as 'Lizzi ___, female.'" Although Lizzi correctly answered far more than the usual number of security questions, Shayna would not acknowledge that she was speaking to "Lizzi, female."
Is it a "peoples bank" or only a Cis-Peoples Bank? This bank has been operating in Washington for a century, and three generations of the LeCoq family have served as its officers. Now it's time for Peoples Bank to live up to its name and do the right thing: show that it is learning how to treat transgender people justly and without discrimination.
It's not 1921 anymore. Join Seasol in telling Peoples Bank the news: it's time for Peoples Bank to accept transgender sensitivity training from a skilled transgender advocacy group. Demand an end to transphobia!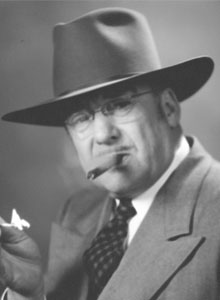 Irwin LeCocq Sr, Peoples Bank President 1938 – 1969