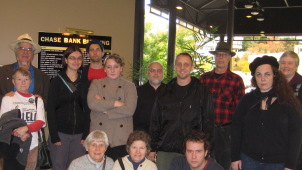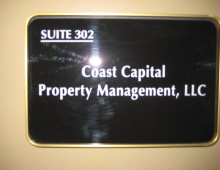 Tephra, an active Seattle Solidarity member, lived at the Capitola Apartments for six months before deciding to move on to a better living situation. Like many before her, she found the building terribly managed, with the landlord leaving basic tenant requests un-addressed for months at a time. When Tephra decided to leave the Capitola, she gave 30 days notice and deep-cleaned the apartment, leaving it in better condition than she found it. After a walkthrough in which the manager agreed the place was in excellent condition, Tephra rightfully expected to receive her refundable deposit.
When two weeks passed without any communication from her landlord, Tephra became concerned and tried several times to contact The Capitola management. She got no answers, and no one returned her calls. Finally she realized the company had no intention of returning her deposit. With bills piling up, she couldn't afford to let them steal it.
On October 21st, 13 people joined Tephra for a visit to the Capitola's management company, Coast Capital. They walked into the Chase Bank building on Mercer Island, filling the small front room of Coast Capital's office, and Tephra presented a demand for the return of her deposit. A Coast Capital manager came out and argued–both in the office and later via a voicemail–that we were going after the wrong company, that our information was wrong, and that we should really be talking to a different business whose phone number he would try to help us find.
We weren't willing to go for the runaround. After waiting two more weeks for the deposit, Tephra and other Seattle Solidarity Network supporters started posting flyers around the Capitola building (which was trying to fill vacancies), pointing out some of the problems future tenants would face if they chose to move into the building.
Almost immediately, the Capitola's owner started frantically calling Tephra, saying he wanted to resolve the dispute. Tephra began trying to get in touch with him and trying to arrange to get her check, and we put further actions on hold. Then, three more weeks passed with nothing but phone tag and delay. Running out of patience, we put the word out and mobilized to confront management again. Just before we did so, the deposit check arrived in Tephra's mailbox, sent by none other than Coast Capital on Mercer Island. They'd had it all along!
Thanks to everyone who supported Tephra in this fight.