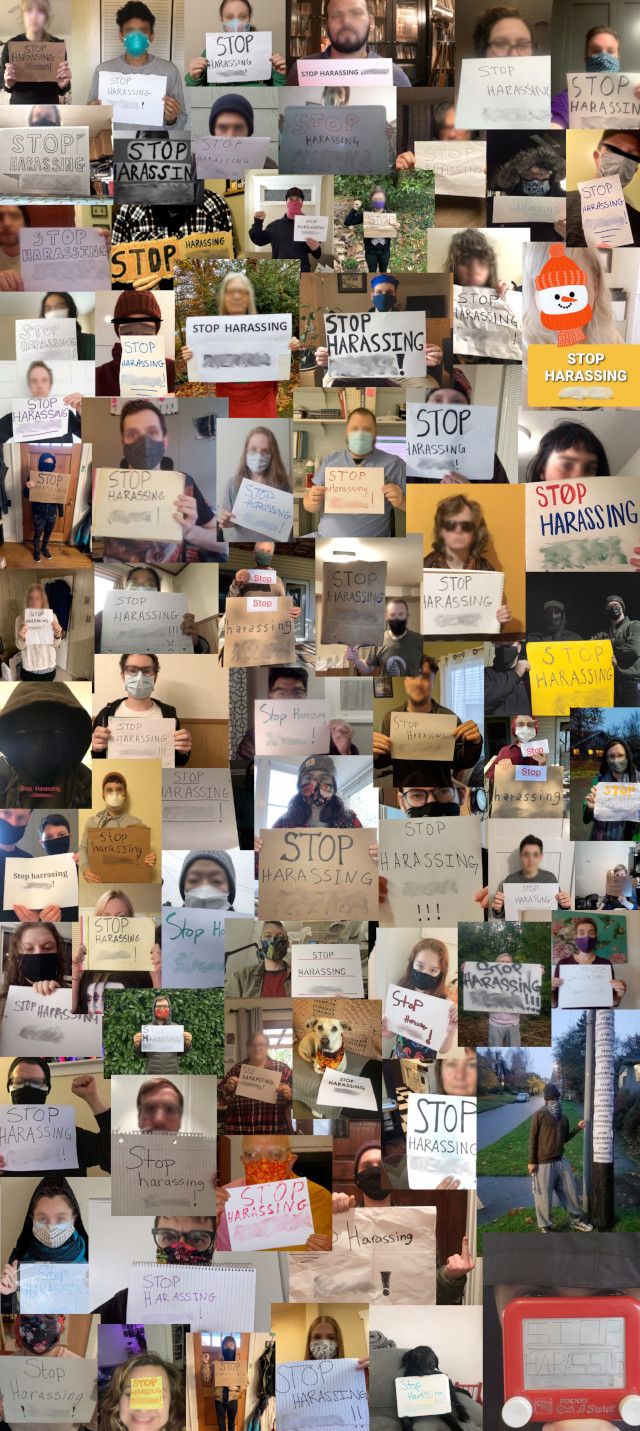 Kai (real name redacted) and her kid were happy living at the Helene Apartments in Greenlake, until the new manager, Arnold, arrived. At first he was friendly. Then he was too friendly. After his unwelcome advances were rejected, he started acting hostile. But things only got really bad after Arnold locked the fire exits, and then Kai forgot her keys and became trapped with her daughter in the parking garage.
Someone outside eventually heard their calls for help, and firefighters rescued them, citing Arnold for having illegally locked the fire exits. Furious at Kai, Arnold yelled abuse at her in front of her daughter, who from that day on became scared whenever she saw him in the halls. Arnold developed a deep, all-consuming hatred for Kai and her daughter. His obsessive desire to punish them, combined with the petty authority of being the landlord's sole representative in the building, made life increasingly hellish for the young family.
Arnold made up pretexts to try to evict them. When the first eviction attempt failed, quashed by the City of Seattle due to the obviously bogus nature of the supposed "lease violations", he did not give up. He tried again. And again. Eight times Kai had to deal with his attempts to evict them on false pretenses, eventually getting each of the evictions thrown out. But that wasn't all: when Kai's daughter made a jack-o-lantern at a Halloween event in the building, Arnold smashed it, then laughed about it to her face. When she planted a small garden, he tore it up. He stalked Kai via the security cameras he controlled, monitoring her movements and then taunting her about knowing where she had been and what she had been doing.
Unfortunately for Arnold, Kai was not a helpless victim. First she reported him to the Seattle Office of Civil Rights, which started an investigation, but ultimately did nothing. Then she joined SeaSol. We agreed to fight alongside her against the landlord, with one simple demand: Arnold must be removed from the Helene Apartments.
We normally bring a crowd of supporters into the boss or landlord's office to stand with the worker or tenant as they deliver the demands. However, mid-pandemic, with people not yet vaccinated, we had to find another way to show community support for Kai. So instead, 80 SeaSol members and supporters submitted selfies with their own home-made "Stop Harassing Kai" signs, and we sent them all to the owners of the Helene Apartments, together with the demand letter calling for Arnold's removal from the building. We soon received a response from Arnold's boss, Chris: he wanted to "address our concerns", but Arnold wasn't going anywhere.
With the issue unresolved, we started gradually escalating the campaign. First we sent postcards to all tenants at the Helene Apartments, letting them know about the dispute and encouraging them to enforce their rights as tenants, especially given the Covid-19 eviction moratorium. We then started putting up posters around the building, warning potential renters what they'd be getting into if they signed a lease with Arnold. Arnold, of course, continually ripped these down, so we continually put them up again. After a while, we started putting up warning posters around the owners' other buildings as well. We also created a website about the landlords, hosted at our very own domain name, "slumlordwarning.com".
When none of this was enough to get rid of the abusive manager, we started a calling campaign targeting the two owners' cell phones. Rather than do the traditional big one-day phone blast, we decided to drag it out and have a handful of people call each week, so that instead of one overwhelming day of calls that would soon be over, the calls just kept coming and coming, week after week, month after month. One owner's voicemail was soon disabled, but the other owner used his cell as the main number for his real estate appraisal business, so he didn't have the option of just shutting it down or ignoring it.
Next, we started going after the owner's real estate appraisal business. The company made bids for contracts with local governments and public agencies, so we started sending emails and letters to city council members, county commissioners, and agency heads, asking them not to do business with this abusive landlord. Each week we sent another batch of these, bcc'ing the landlord on the emails. One of the agencies was Sound Transit, which had the landlord on their contractor list. When Sound Transit ignored our messages, we held a noise picket at their headquarters, then included a photo of that action in the letters that we continued sending to more and more agencies and municipalities each week.
At this point, the landlords made a more serious attempt to get us off their backs. They still weren't going to remove Arnold, but if Kai agreed to move out instead, they would offer her up to $12,000 dollars in rental assistance. We tried to see if they would go higher, but they wouldn't. $12k was a tempting offer for a low-income single mother, but ultimately Kai decided, with SeaSol's full support, that it wasn't good enough. She had not gone into this seeking money, that was not what we had demanded, and she should not have to move.
The actions continued. We made a flyer with a photo of Arnold and started distributing it in the area around the Helene Apartments, canvassing neighborhood people and business to let them know about the scumbag manager in their midst. Arnold retaliated by moving into the apartment directly above Kai and then stomping loudly in the middle of the night to prevent her and her daughter from sleeping.
We found out that Arnold, in addition to being a wannabe DJ, was also a wannabe dance instructor. A local dance studio had him scheduled to lead an event at Alki Beach. We contacted the studio and asked them to cease working with Arnold. We started preparing to show up to the Alki event.
We also finally started escalating more personally against the owners and the head of the management company, distributing letters to all houses on the blocks where they lived, as well as posting them on telephone poles. The letters said that one of their neighbors was an abusive landlord, and although we didn't yet name who it was, we promised to visit soon in person to address the issue fully. We began getting ready to canvas the neighbors. Next on the list after that: street pickets in front of their houses.
Before going ahead with all this, we received a new message from Arnold's boss. They had had enough. Arnold was on his way out.
We were a bit concerned that this message might just be a trick to stall our actions, but a couple weeks later we had the proof we needed: Arnold was gone, and the Helene Apartments had a new manager. Finally, Kai and her daughter could feel safe in their home.
To everyone who took part, thank you. This wasn't an easy fight or a quick one, but it was worth doing.