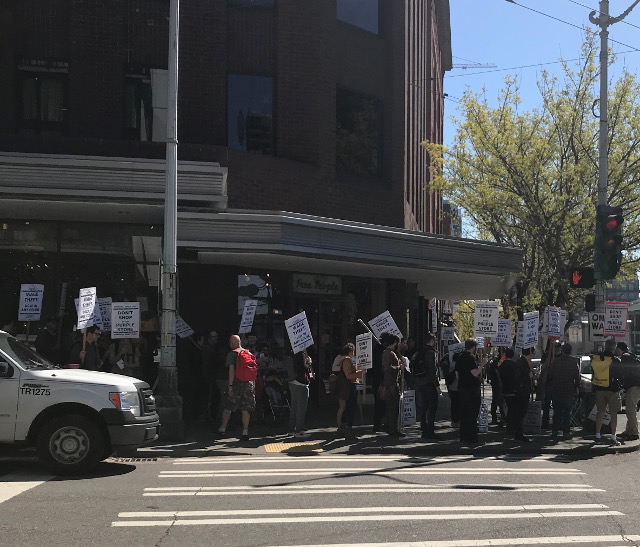 On Saturday March 2nd, around 40 Seattle Solidarity Network members and supporters joined workers from "The Purple Store" at the historic Pike Place Market as they delivered a demand making it clear that they were ready to fight with the community at their back for the over $10,000 owed to them by the store's owner Adam Sheridan. It was a calm and quick yet impactful action that left the workers feeling empowered and ready to organize towards a resolution that worked for everybody. Unfortunately, Adam chose to almost immediately retaliate against the workers. Within a week, the workers from the store were told the store was in dire financial straits and they were not to return to work. In the meanwhile, Adam appears to have brought in scabs to replace the workers he locked out in an attempt to keep the store open until their peak Summer season. Funny how that works, huh?
Retaliation against workers or tenants organizing is something that we here at Seattle Solidarity Network take with the highest level of seriousness. Displacing workers from their jobs by way of lockout, threatening their ability to make ends meet and provide for themselves and their families, and then bringing in scabs to work in their place is unacceptable. A business that robs and retaliates against workers should not be able to continue to operate.
We are calling upon the broader community to get involved and support the workers in this campaign. Getting involved can look a variety of ways depending on your time and abilities. Whether it is simply spreading word of our fights through your own networks, getting added to our mobilizing list to receive calls and emails about actions, or coming to weekly meetings to get your hands dirty with planning and executing campaigns; we could use your support! You can contact us by call, text, email, or by filling out the form found at http://seasol.net/subscribe-contact/ to get plugged in.
Additionally, we are currently in the process of rebuilding our Strike and Legal Defense Fund which will allow us to provide financial support to these workers and people in our future campaigns should the need arise. If you are able to donate to this, you may do so via Paypal by sending donations to finance@seasol.net.
When we fight, we win!