Bruce Lorig, CEO and owner of Lorig Associates, has fallen on hard times. So desperate is his need for money, he has been forced to sue his own former receptionist, Patricia, and the rest of Seattle Solidarity Network in hopes of squeezing a little money out of us after we protested racism at his company. Instead of bringing relief, this lawsuit has impoverished the developer even further, as the law firm he has hired piles on endless fees while promising him results that never come.
Beginning in March, we launched the LorigAid campaign–a monthly series of charity bake sales asking passersby, "please spare a dime for a developer in need." At the first, festive LorigAid charity bake sale, we collected a lovely jar of change (and a few pebbles), jingled many cans, gave away many cupcakes, and sang a song composed specially for the event:
Won't you please help Bruce Lorig?
He has fallen on hard times
He has to sue his former secretary
So won't you spare a dime?
The full song is available for download. (mp3)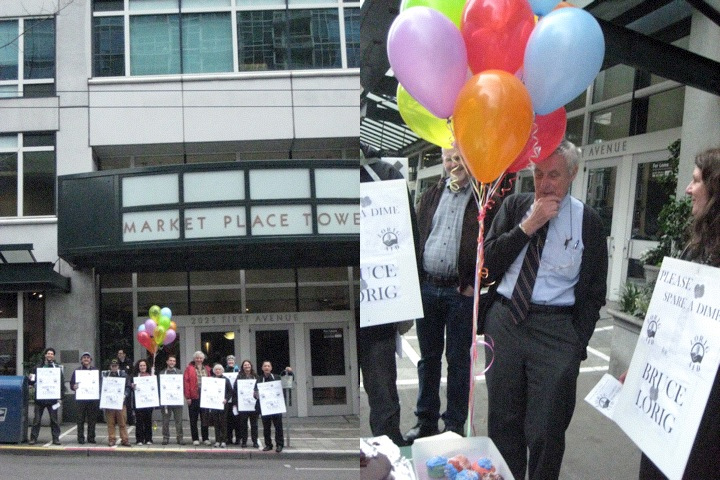 We got covered in the Belltown Messenger, and we hope Bruce appreciated the coins we delivered to him a few weeks later, which we estimate should buy about 3 billable minutes from his lawyers.
What's next for LorigAid? On April 29th, we will be holding our second bake sale and soliciting change for Lorig outside the offices of their "preferred lender," Bank of America. Like many people, the bankers may be wondering, "Why is Lorig so desperate for money?" To help them understand, we will be sharing information about Lorig's many recent business problems, from empty condos to stalled and canceled projects to discrimination and nasty lawsuits. If Bank of America (understandably) no longer sees Lorig as a good investment, perhaps out of charity they can still spare a dime for this impoverished developer. Drop by701 5th Ave around 12pm to take a fresh-baked snack and donate a penny, a nickel, or a dime – whatever you can spare.