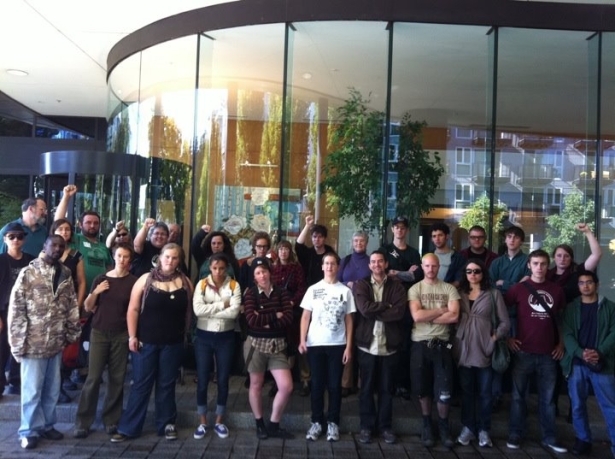 SeaSol's latest victory is against a 16-billion dollar company which calls itself "one of the nation's largest" residential landlords. A young low-income tenant named Anelise was ordered out of one of their Seattle apartments in 2009 for being unable to pay the rent after losing her housing assistance. She moved out as ordered, then arranged a $200 monthly payment plan to cover the back rent she still owed. Two years later, Anelise had paid off her entire back-rent debt for the months she had lived in the apartment, but the company still was not satisfied. They demanded thousands more from her, claiming she owed them rent for all the months when the apartment had sat empty after they'd kicked her out. If she didn't keep paying, they'd ruin her credit and make it difficult to find housing in the future.
Anelise decided to fight back. Not only was she furious at the injustice, but having recently lost her job, she simply could no longer afford to keep paying the company rent for time when she had not even lived in their building. She joined SeaSol, and we agreed to take on her fight. On September 29th, 2011, thirty people marched with her into the corporate office in Belltown to present our demand: back off and leave Anelise alone, and cancel any further debt that she allegedly owed.
The company's response, on October 11th, was to flatly refuse to drop any of the alleged debt, to threaten to send the debt to a third-party collection agency, and to say that our "tactics…will not be tolerated."
So we escalated our campaign. We picketed their offices. Whenever the Executive Vice President showed up at industry and charity events, our people were there to embarrass and denounce him. When potential renters went to view the company's apartments, they were greeted by vast numbers of posters saying "WARNING RENTERS!!" and detailing the company's unscrupulous practices.
After two months of this, the company had had enough. They signed an agreement formally dropping all claims of further debt owed by Anelise.
Thanks to everyone who helped SeaSol and Anelise win this fight!